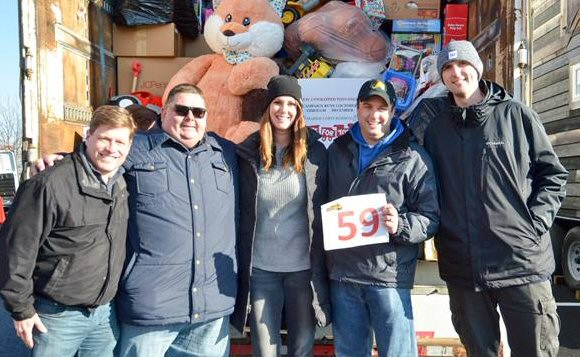 WKST-FM/Pittsburgh: 96.1 KISS FM's Stuff A Bus toy drive fills 59 buses to benefit Toys For Tots. L-R: Region Senior VP David Edgar, WKST morning co-host Bob, WKST APD/afternoon host Tall Cathy, WKST Promotions Director Dan Quindlen and WKST morning co-host Mikey.
---
Copyright © 1989-2018 RADIO ONLINE ®

The publisher makes no claims concerning the validity of the information posted on RADIO ONLINE and will not be held liable for its use. No part of this material may be reproduced in any form, incorporated in any information retrieval system or otherwise redistributed without the prior written permission of the publisher.
---