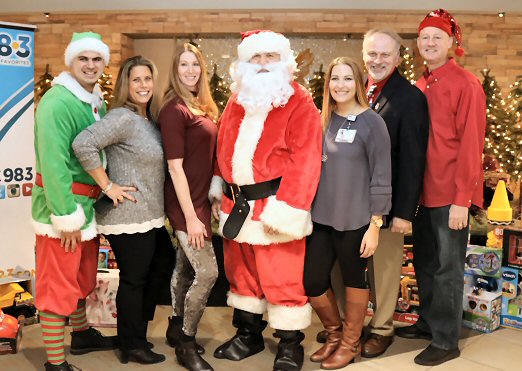 Beasley Media Group/Middlesex: Beasley Media Group's Magic 98.3 and 1450 WCTC presented the 2nd annual ''Magic Of Christmas'' toy drive. L-R: Promotions team member Matthew Burrill (Santa's Elf), Marketing Director Jodi Bustillo, Magic morning co-host Maryann Morgan, Santa, St. Peter's Foundation Stewardship Coordinator Alyssa Collevechio, WCTC PD/morning host Bert Baron and WMGQ APD/morning co-host Joel Katz.
---
Copyright © 1989-2018 RADIO ONLINE ®

The publisher makes no claims concerning the validity of the information posted on RADIO ONLINE and will not be held liable for its use. No part of this material may be reproduced in any form, incorporated in any information retrieval system or otherwise redistributed without the prior written permission of the publisher.
---