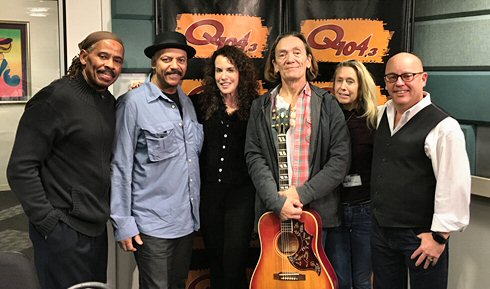 WAXQ-FM/New York: Author, songrwriter and musician Taylor Barton Smith visited Q104 morning co-host Shelli Sonstien about her new multi-media eco-friendly children's book ''Pedro And Pip.'' L-R: Cliff Dawson & Dave Revels of The Persuasions, Q104.3's Shelli Sonstien, G.E. Smith, Taylor Barton-Smith and Krantz Media Group Founder & CEO Gary Krantz.
---
Copyright © 1989-2018 RADIO ONLINE ®

The publisher makes no claims concerning the validity of the information posted on RADIO ONLINE and will not be held liable for its use. No part of this material may be reproduced in any form, incorporated in any information retrieval system or otherwise redistributed without the prior written permission of the publisher.
---