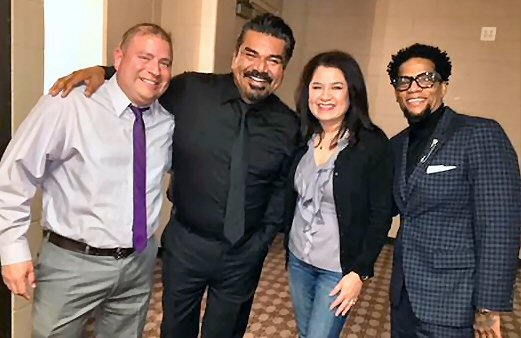 KWBT-FM/Waco: 94.5 The Beat OM/PD Edward Sanchez, along with his wife Alesha, experienced a VIP experience with both a pre-show one-on-one and meet-and-greet when the national comedy tour, the Comedy Get Down, featuring D.L. Hughley made a stop in Dallas. D.L. Hughley plus George Lopez and the rest of the ''Get Down'' comedians shared the moment with the station's contest winners from a promotion that welcomed The D.L. Hughley Show to afternoons on 94.5 the Beat.
---
Copyright © 1989-2018 RADIO ONLINE ®

The publisher makes no claims concerning the validity of the information posted on RADIO ONLINE and will not be held liable for its use. No part of this material may be reproduced in any form, incorporated in any information retrieval system or otherwise redistributed without the prior written permission of the publisher.
---